Saturday – September 15th, 2012 – 3pm
at UUWC, 1650 Abrazo Rd NE

FREE (donations gratefully accepted) and
OPEN to ALL

 Immigration 101:
Immigration in Today's Legal System
"What happens to those who are deported, particularly if they don't speak the language of their home country and don't have relatives to support them? What are the costs for a family that has been ripped apart? What happens to families that lose their primary breadwinner? Do these families end up on public assistance?" 
– Jennifer Landau
Immigration is one of the most contentious debates in America today. Learn about current Immigration Law and how it affects your world.  Be Prepared!  Bring your questions and concerns for this important discussion.
Jennifer Landau is co-founder of the newly created New Mexico Immigrant Law Center.  She has provided direct services and advocacy to refugees since 1999, working to improve access to justice for immigrants facing deportation in NM and New Jersey.  Ms. Landau is the recipient of a Equal Justice Works Fellowship and the NM Bar Association's 2009 Justice Pamela B. Minzer Outstanding Advocacy for Women.  She serves on the faculty of UNM School of Law.
  __________________________________
Read more about UUs and Immigration >>
http://blogs.uuworld.org/ga/2012/06/21/morales-amigos-and-arizona-were-back/ ­­­­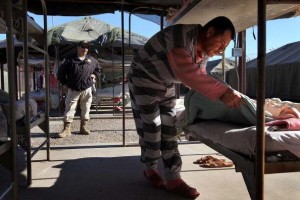 PHOENIX – APRIL 30: Maricopa sheriff's department officer Joe Herrera (L) watches as undocumented Mexican immigrant Manuel Gomez makes his bed at the Maricopa County "Tent City Jail" on April 30, 2010 in Phoenix, Arizona. Gomez said he had been living in Phoenix for 22 years, working as a mechanic, when he was arrested by sheriff's deputies at his home. He said he has an American wife and 6 children, all U.S. citizens. Some 200 undocumented immigrants are currently serving time in the facility, and most will be deported to Mexico, after serving their sentence. The controversial jail is run by Maricopa County Sheriff Joe Arpaio, who has been an outspoken critic of illegal immigration and a supporter of Arizona's new tough immigration law. Prisoners detained at the spartan facility eat at twice a day, sleep in non-airconditioned tents and are issued striped uniforms and pink undergarments to wear. (Photo by John Moore/Getty Images)   CLICK
HERE
to read more about Immigrants in Phoenix's Tent City   _________________________________
Westside Forum™ is a project of Unitarian Universalist Westside Congregation's Social Action Committee.
The Forum is a non-partisan service to the community at large.
While there is no attendance fee, donations are gratefully accepted.
Contact Persons: Donald Becker (505) 255-0306 or Administrator: (505) 896-8192
Unitarian Universalism is a liberal religion that embraces theological diversity; we welcome different beliefs and affirm the inherent worth and dignity of every person.