Come join our Drum Circle!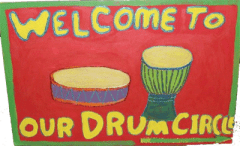 Please note:  The Drum Circle Group is currently "On Break", but they will resume in the Spring, watch for more info.
Our Drum Circle meets on the 4th Friday of the month at 6:30pm.
Doors open at 6:00pm, drumming begins at 6:30pm.
Please bring any instruments you like:  flutes, harps, etc., and of course drums and percussion.
We also have small drums, rattles, rain sticks & other percussion instruments to share.
Light potluck snacks and/or donations for Storehouse West or Watermelon Ranch are welcome.
Weather permitting, we meet outside.