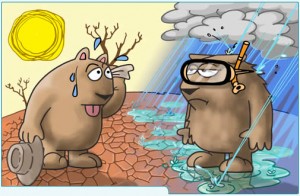 William M. Brown, Earth Scientist on
The Climate Reality Project:
What's Happening!
Current Energy and Climate Change
Issues and Policies in the US
On behalf of The Climate Change Reality Project, initiated by Al Gore, Bill will provide current information on Southwest US climate change impacts plus a brief overview of solutions at the March, 2012 WESTSIDE FORUM.
William (Bill) M. Brown was an Earth Scientist with the US Geological Survey for 36 years.  He led projects on the environmental impacts of human activities in the US and seven other countries.  Bill has worked as a research team manager and/or researcher on global minerals and energy, the White House Council on Environmental Quality, International Mining, the Minerals and Sustainable Development Project; and as a Budget Analyst in the US Department of the Interior.  He has authored more than 60 research papers, books, and government administrative publications in addition to numerous newspaper, magazine and online articles.
PLEASE SPREAD THE WORD AND BRING YOUR FRIENDS AND NEIGHBORS WITH ANY QUESTIONS YOU MAY HAVE.
The Great Energy Challenge
How much can you save yourself, and the world, by switching to more efficient bulbs?